Put a Powerful Financial Tool in Your Pocket with the Mobile Banking app
What is the Paradise Plu$ app?
The Paradise Plu$ app lets you manage your bank account, bill pay account and credit card accounts all right from your mobile device. That means you can pay bills, deposit checks, view transactions and transfer money from anywhere at anytime you like.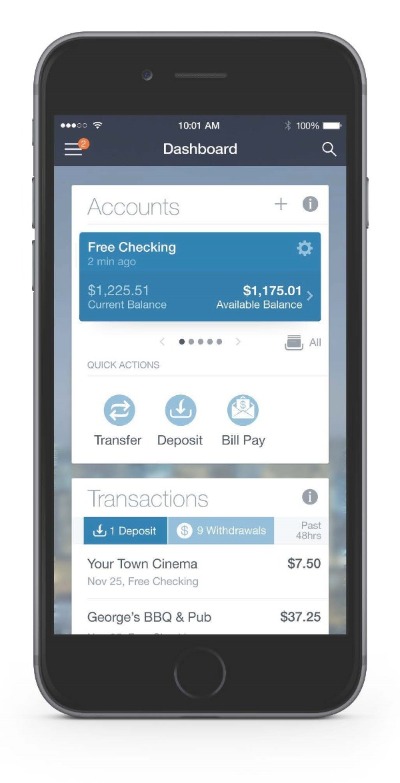 Why should I use the Paradise Plu$ app?
The app gives you the easiest, most convenient way to do your banking. When you have the Paradise Plu$ app, you have a powerful financial tool in the palm of your hand.
You can use it to:
Manage your bills. You can add payees, view all your upcoming bills, make payments and access your payment history.
View transactions. Track, view and search for transactions; add a note or an image; and filter by tags anytime and anywhere.
Make transfers. With the Paradise Plu$ app, you can easily and securely initiate one-time, future date or repeating transfers between your accounts at Paradise Bank.
Deposit checks remotely. The Paradise Plu$ app lets you securely deposit checks anywhere you have a WiFi or Internet connection using just your mobile device.
Get notifications

 

when deposits and payments are made, when transfers go through or when your account balance is low.
How secure is this app?
The Paradise Plu$ app is extremely secure. Your account information is password protected and highly encrypted.
How do I start using my app?
Once you've downloaded the app, just follow these simple steps:
Touch the app icon on your home screen.
Enroll as a first-time user or enter your online banking credentials to log in.
For additional security, you will also be asked to create a four-digit code. In addition, you'll have the option to enable fingerprint or face ID recognition authentication if your device supports these capabilities.
If you cannot remember your login information or the answer to your challenge question, please contact us for assistance.
Are there any requirements to use the app?
In order to use the Paradise Plu$ app:
You must have: 
An Online Banking User ID and Password
A smart phone or tablet
The Paradise Plu$ app located in the app store
Download the Paradise Plu$ app today: